Android Application Development Training in jaipur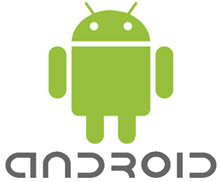 Android is a free, open source platform available for anyone to use. Android Technology powers millions of phones, tablets, and other devices and brings the power of Google and the web into your hands.
With an amazingly fast browser, cloud sync, multi-tasking, easy connect & share, and the latest mobile apps your Android powered device is beyond smart. Android-based smartphones like motorola Droid, HTC , Samsung Galaxy,Gionee,Micromax are coming with multiple Developers application.As compare to iOS platform of iPhone it gives low cost solutions to customers.
Wide Range of Android Tools & API
Android Provide multiple classes that helps in develop great application for Android Phone. Every class of android open source explain all the steps required to solve a problem.Android is a software stack for mobile devices that includes an operating system, middleware and key applications. The Android SDK provides the tools and APIs necessary to begin developing applications on the Android platform using the Java programming language.
Benefits of Android software stack
The Android OS can be referred to as a software stack of different layers, where each layer is a group of several program components. The fully integrated Android package comprising an OS, middleware, applications and user friendly interface is expected to considerably speed-up product development while lowering the cost of mobile services development Developers have full access to the Android framework APIs used by the core applications.includes a set of C/C++ libraries used by various components of the Android system.
Android Linux kernel
Android Runtime consists of Dalvik Virtual machine and Core Java libraries.Every Android application runs in its own process, with its own instance of the Dalvik virtual machine. Android relies on Linux version 2.6 for core system services such as security, memory management, process management, network stack, and driver model. The kernel also acts as an abstraction layer between the hardware and the rest of the software stack.It is this Linux that interacts with the hardware and contains all the essential hardware drivers. Drivers are programs that control and communicate with the hardware. Android Eclipse-based development make easy to develop application.To learn android programming java language is essential.
Core Android Training Contents
4
Android Development Environment
5
Android Application Fundamentals
6
Android Basic GUI Programming
7
Android Layout Management
8
Android Resource Management and Localization
9
Intents and Intent Filters
10
SQL Lite Database Storage
13
Showing Notification Messages
14
Advanced GUI Development
16
Background Task Processing and Service
18
Applying Styles on Widgets
Advance Android Module
19
Learn How to Animate object by Animation
21
Creating HTML Pages with CSS & Mobile JQUERY
22
Android App Web Server Integration
27
Android Multimedia Programming
28
Location Based Services
View Android Content in Detail